JBL CINEMA SB130 2.1 SOUNDBAR SPEAKER
Explore more EMI Options here
EMI Options
| Months | EMI | Interest (%) | Total Cost |
| --- | --- | --- | --- |
| 3 | 3417.01 | 15.00 | 10251.03 |
| 6 | 1740.33 | 15.00 | 10441.98 |
| 9 | 1181.70 | 15.00 | 10635.3 |
| 12 | 902.58 | 15.00 | 10830.96 |

| Months | EMI | Interest (%) | Total Cost |
| --- | --- | --- | --- |
| 3 | 3405.75 | 12.99 | 10217.25 |
| 6 | 1735.32 | 13.99 | 10411.92 |
| 9 | 1176.87 | 13.99 | 10591.83 |
| 12 | 897.82 | 13.99 | 10773.84 |

| Months | EMI | Interest (%) | Total Cost |
| --- | --- | --- | --- |
| 3 | 3405.81 | 13.00 | 10217.43 |
| 6 | 1730.42 | 13.00 | 10382.52 |
| 9 | 1176.92 | 14.00 | 10592.28 |
| 12 | 897.86 | 14.00 | 10774.32 |

| Months | EMI | Interest (%) | Total Cost |
| --- | --- | --- | --- |
| 3 | 3405.81 | 13.00 | 10217.43 |
| 6 | 1730.42 | 13.00 | 10382.52 |
| 9 | 1181.70 | 15.00 | 10635.3 |
| 12 | 902.58 | 15.00 | 10830.96 |

| Months | EMI | Interest (%) | Total Cost |
| --- | --- | --- | --- |
| 3 | 3405.81 | 13.00 | 10217.43 |
| 6 | 1730.42 | 13.00 | 10382.52 |
| 9 | 1172.15 | 13.00 | 10549.35 |
| 12 | 893.17 | 13.00 | 10718.04 |

| Months | EMI | Interest (%) | Total Cost |
| --- | --- | --- | --- |
| 3 | 3403.01 | 12.50 | 10209.03 |
| 6 | 1727.95 | 12.50 | 10367.7 |
| 9 | 1174.54 | 13.50 | 10570.86 |
| 12 | 895.52 | 13.50 | 10746.24 |

| Months | EMI | Interest (%) | Total Cost |
| --- | --- | --- | --- |
| 3 | 3405.81 | 13.00 | 10217.43 |
| 6 | 1730.42 | 13.00 | 10382.52 |
| 9 | 1172.15 | 13.00 | 10549.35 |
| 12 | 888.48 | 12.00 | 10661.76 |

| Months | EMI | Interest (%) | Total Cost |
| --- | --- | --- | --- |
| 3 | 3400.22 | 12.00 | 10200.66 |
| 6 | 1725.48 | 12.00 | 10352.88 |
| 9 | 1176.92 | 14.00 | 10592.28 |
| 12 | 897.86 | 14.00 | 10774.32 |

| Months | EMI | Interest (%) | Total Cost |
| --- | --- | --- | --- |
| 3 | 3405.81 | 13.00 | 10217.43 |
| 6 | 1730.42 | 13.00 | 10382.52 |
| 9 | 1172.15 | 13.00 | 10549.35 |
| 12 | 893.17 | 13.00 | 10718.04 |

| Months | EMI | Interest (%) | Total Cost |
| --- | --- | --- | --- |
| 3 | 3405.81 | 13.00 | 10217.43 |
| 6 | 1730.42 | 13.00 | 10382.52 |
| 9 | 1176.92 | 14.00 | 10592.28 |
| 12 | 897.86 | 14.00 | 10774.32 |

| Months | EMI | Interest (%) | Total Cost |
| --- | --- | --- | --- |
| 3 | 3405.81 | 13.00 | 10217.43 |
| 6 | 1730.42 | 13.00 | 10382.52 |
| 9 | 1176.92 | 14.00 | 10592.28 |
| 12 | 897.86 | 14.00 | 10774.32 |
Highlights:
Power Output (RMS): 110 W
Power Source: AC Adapter
Bluetooth Version: V4.2
Wireless range: 10 m
Wireless music streaming via Bluetooth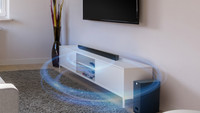 110 W Power Output
With an impressive 110 W Power Output, this JBL soundbar offers an immersive aural experience.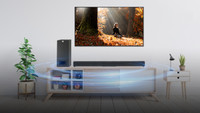 Dolby Digital
Embedded with the Dolby Digital technology, this audio device will offer lifelike sound while watching movies or your favorite shows.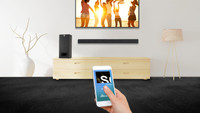 Wireless Connectivity
You can stream your favorite songs, audio clips, and other personal media files from your smartphone and other Bluetooth-enabled devices.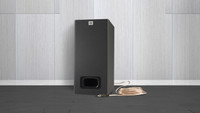 Wired Subwoofer
You can groove to deep bass, thanks to the wired subwoofer that features a tuned bass port for clear, crisp, and rich bass response.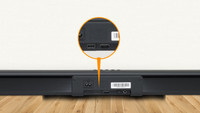 One Cable HDMI ARC Connection
This connection is easy and hassle-free to set up. Thus, it is a user-friendly audio device.
More Information
Product Specification
Brand
JBL
Model Name
SB130
Bluetooth Version
V4.2 withA2DP V1.3/AVRCP V1.5
Connector Type
Wireless
USB Voltage
110 Watts
Dimensions
6.3 x 90 x 6.7 cm; 3 Kilograms
Item Weight
3 kg
1 x Soundbar
1 x Wired subwoofer
1 x Remote control with batteries
Power cords (up to 4pcs depending on region SKUs)
1 x HDMI cable
Wall-mount bracket kit with screws
1 x Quick start guide
1 x Warranty card
1 x Safety sheet